Mac Hut 6.0.8 Recovery Toolkit
HD Toolkit Version 1.0.0
Found this useful? Donate a coffee to keep Mac Hut running
Date: 13 Jan 2021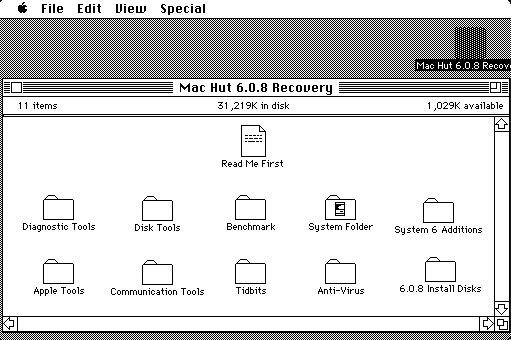 Download
About
Mac Hut System 6.0.8 Recovery Toolkit is a collection of utilities for diagnosing and repairing Macintosh systems running System 6. It is ideally used with a FloppyEmu that can mount a Disk Image file as a mounted drive on the host system (more about that below). The collection is included on a bootable 32MB HFS-formatted Macintosh Disk Image which you can mount in Mac emulators (Mini vMac, Basilisk II) or use with a FloppyEmu or SCSI2SD.
These utilities are particularly useful for those wishing to run system tests on their Mac, or format or test a hard drive. A range of tools are included which should remedy various common drive problems, including lost partitions or corrupted drives.
Also included are various other useful tools, such as StuffIt Expander 4.01, BinHex versions 4 and 5, Disk Copy 4.2 and the disk images to re-install System 6.0.8 on your system.
Some of these programs will not work properly in an emulated environment (i.e. you must instead mount this disk on a real Macintosh system), and some utilities require specific Apple products to work. Check the bundled Read Me files or manuals where relevant for further compatibility information.
I cannot provide support, and this is strictly provided on an as-is basis without warranty. However, if you have basic questions, please feel free to email machut@pm.me
Using it
First of all, this image uses System 6.0.8, so it is most suitable for machines which can boot 6.0.8 - the exception to the list on that page being the Classic II, LC, LC II and PowerBook 100 which use 6.0.8L instead.
Drop into Mini vMac or set as a volume in Basilisk II GUI to boot an emulator using this disk image.
Or, drop it onto an SD card for your FloppyEmu and boot using HD20 Emulation Mode. The disk image is too large to be used in Floppy emulation.
If you are planning to use it with a FloppyEmu, remember only certain Macs support HD20 emulation. By default this is Macintosh 512K, 512Ke, Plus, SE (not SE/30), Classic, Classic II, Portable, IIci, IIsi, or LC I. Custom ROMs can add HD20 support to other machines.
You could also use this as a basis for a SD card to be used with a SCSI2SD device. If I was doing this, I would mount my SD card and format it/prepare it with Basilisk II.
More Info
This disk image has been tested with Mini vMac (Plus) and Mini vMac emulating a Macintosh II, and Basilisk II emulating a 68040.
Please Note: This disk image is not yet tested with real hardware.
The contents of the disk image have been scanned with Agax, SAM 3.5 and Disinfectant (see reports).
Version history
Version 1.0.0 - Initial release - 13 Jan 2021
Contents
- Bootable System 6.0.8 for any Macintosh

- Diagnostic Tools
-- Snooper 2.0
-- (further diagnostic tools filed under Disk Tools and Apple Tools)

- Disk Tools
-- 1st Aid HFS 2.5
-- Disk Rejuvenator 1.0
-- ALS DiskCheck 1.20
-- Europa HD Formatter 3.55
-- FormatterOne Pro 2.2.2
-- FWB Hard Disk Toolkit PE 1.6
-- Lido 7.56
-- MicroNet Utility 7.2.7r
-- Norton Utilities 2.0
-- SetupPartitions 1.0.5
-- SilverLining 5.6.3
-- HDBackup 1.0

- Benchmark
-- Speedometer

- Apple Tools
-- Apple HD SC Setup
-- Apple Personal Diagnostics 1.1.1
-- AppleCopy
-- AppleTalk 53.0
-- DART 1.4
-- Disk Copy 4.2
-- Disk First Aid 7.2
-- Disk First Aid 7.2.4
-- Hard Disk Drive Diagnostics (for HD 20,40,80SC)
-- HD 20 Test - for testing a real HD20 only
-- HD SC Setup 7.5.3 (patched)
-- Internal HD Format 1.3
-- MacInTalk 1.3.1
-- Macintosh Hard Disk Test 2.1
-- Macintosh Peripheral Tests
--- AppleCD Test 1.1
--- FaxTest 1.2
--- PrintTest LQ 1.2
--- ScanTest 1.0
-- MacsBug 6.2.2
-- MacTest Pro (680x0) 2/96
--- MacTest Pro (680x0)
--- MTP Emergency 1.1
--- Color LW Service Utility 1.0, Color StyleWriter Pro Utility 1.0, Display Service Utility 1.0
-- MacTest MP 1.2
-- MacTest MP 2.0
-- ResEdit 2.1.3
-- MacTest Pro (sys 6)
--- Classic Macs
--- Mac II Family
--- Drives
--- RAM Tests
-- SCSI Explorer 1.0

- Communication Tools
-- EtherTalk Version 1.0d3
-- GetMyAddress 1.2

- Tidbits
-- BinHex 5.0
-- BinHex 4.0
-- binUnpk 1.2.0
-- BootMan 1.1
-- Copy II Mac 5.2
-- DDExpand 3.1
-- GetsInfo
-- HyperCard Player 2.4.1
-- Inside Your Macintosh (iymac)
-- Mac Memory Guide 5.0
-- Printer Tools (Font Downloader, SendPS 1.2)
-- StuffIt Expander 4.01
-- System Errors DA
-- System Tools (Blesser, Macintosh IIfx Serial Switch)
-- TeachText

- Anti-Virus
-- Disinfectant 3.7.1
-- SAM 3.5.1

- 6.0.8 Install Disks
-- System Startup 1.4MB Disk Copy Image
-- System Additions 1.4MB Disk Copy Image

- System 6 Additions
-- Apple File Exchange
-- Font/DA Mover
-- MacroMaker
-- Printing Folder
-- Apple Color
-- Responder
-- CloseView

- Control Panels
-- ALS DiskExpress II 2.20
-- MacEnvy
-- MountImage 1.1B3
-- SCSIInfo 1.2.6
-- SCSIProbe 3.5
-- SCSIProbe 4.3
-- Silverlining Lite 1.0.5

- Extensions
-- FormatterOne Pro 2.0.4
-- Apple CD-ROM 5.4