SE/30 Forever
< Back to home
Last Updated: 18/12/2020
History
The Macintosh SE/30 was Apple's attempt at offering a compact version of a more capable, expandable Mac. They released the SE in 1987, and while it was expandable, it was limited in its performance without expensive processor or memory upgrades. Until the SE/30 was released, the Macintosh II line of computers, or shelling out for expensive memory upgrades and accelerator cards for your compact Mac, was the only way to get a more powerful Mac.
The SE/30 is based on the Macintosh SE but there are important differences between the machines. The SE/30 combines the modularity of the original SE with the capabilities of the larger and more powerful Macintosh IIx. Although the name implies that the SE/30 borrows many characteristics from the SE, there are several differences between the two models.
The SE/30 was launched at a time when Apple focused primarily on high-end models with equally high prices. There was no Mac available for less than $1,000 before the release of the Macintosh Classic in 1990.
The naming convention is based on the Motorola 68030 processor used in the SE/30. Apple had stuck to a naming convention of adding an 'x' to the model name to denote the inclusion of a 68030, but with the SE this would've resulted in the unfortunate name SEx, so SE/30 was chosen instead. The SE/30 was codenamed Green Jade, Fafnir, and Roadrunner during its development.
As described in Apple's brochure for the SE/30, it was intended for users looking for maximum performance from a compact computer system. It provided four times the performance of the Macintosh SE, in the same formfactor, and could run the same software as the SE. The markets that Apple targeted included higher education, consultants, accountants, business and government. During Apple's preview of the machine, there was also a focus on the higher education market and the concept of the SE/30 as a music workstation. Apple's marketing team put a lot of emphasis on the machine's sound and music capabilities and referred to third party expansion boards containing digital sound processor (DSP) chips.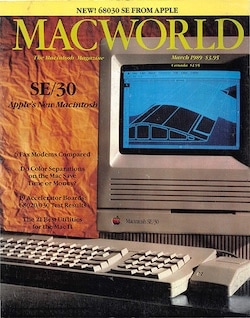 MacWorld US March 1989 issue. Navigate this issue at archive.org
Features
1 or 4 Megabytes of RAM, initially expandable to 8MB but later to 128MB once larger SIMMs were made available. The high memory ceiling allowed multiple applications to run concurrently (multitasking) under Apple's MultiFinder operating system. For more information about RAM on the SE/30, visit the RAM page.
Apple Sound Chip, a custom IC that provided high quality, four-voice stereo sound and the compatibility with all applications that use Macintosh sound. For more information about sound, visit the sound page.
256K of ROM on a SIMM (Single In-line Memory Module) including HFS, Drivers for Macintosh hard disks, Apple Desktop Bus, 68882 floating point co-processor, SCSI and AppleTalk network, Macintosh Toolbox and QuickDraw and Color QuickDraw. For more information about the ROM visit the ROM page.
Seven built-in ports (one SCSI, one disk drive, two serial, two Apple Desktop Bus, one stereo sound). The ports make it easy to expand the system with peripherals, such as external hard drives. The serial ports allow LocalTalk cable-based networks, and ADB allows you to connect things like a trackball or graphics tablet.
A choice of keyboards (sold separately), Apple Keyboard or Apple Extended Keyboard. Apple Keyboard includes a numeric keypad and cursor keys for efficient operation, Apple Extended Keyboard also includes 15 function keys, letting you work effectively with alternate operating systems, terminal emulation programs, and other data communications applications.
32-bit 68030 microprocessor operating at 16 MHz (megahertz) with instruction and data caches, and built-in Paged Memory Management Unit (PMMU). The 68030 executes at up to four times the speed of the 68000 based Macintosh SE. The 68030 also provides support for advanced, multitasking operating systems like System 7 and A/UX.
68882 floating-point coprocessor (FPU) (operating at 16 Mhz), which provides fast processing of compelx mathematical functions such as logarithmic or trigonometric calculations, often used in spreadsheets and high-end graphics and statistics applications.
Macintosh user interface: mouse, icons, windows and pull down menus, making applications intuitive and easy to learn, providing a consistent interface across applications and reducing training and support costs.
Compact design with high-resolution 9-inch screen, offering an affordable, compact system that requires little desk space and is easy to set up and transport.
Apple FDHD Internal Drive - Providing almost twice the storage of existing 800K disks (1.4 megabytes). This drive works with Macintosh, MS-DOS, OS/2 and Apple II systems using Apple File Exchange software. It is also compatible with 400K and 800K Macintosh disks.
MultiFinder operating system, Apple's earlier form of multitasking on the Mac that lets you move between applications, and continue working in an application while performing tasks in the background such as print sppoling or downloading remote files.
Macintosh software compatibility, the SE/30 can run virtually all SE and II software, including applications that take advantage of the 68882 floating-point coprocessor.
030 Direct Slot, allowing you to customize your system with high-performance expansion cards, including video cards for external color and gray-scale monitors, special memory cards, communications cards and digital signal processor cards. The 030 Direct Slot access port provides an easy way to connect external devices to 030 Direct Slot cards.
Configurations
Apple offered three configurations of the SE/30:
The Macintosh SE/30 CPU includes the main unit, 1 megabyte of RAM, one 1.4-megabyute FDHD floppy disk drive, and mouse.
The SE/30 Hard Disk 40 CPU includes the main unit, 1 megabyte of RAM, an internal 40-megabyte hard disk, one 1.4-megabyte FDHD floppy disk drive, and mouse.
The SE/30 Hard Disk 80 CPU includes the main unit, 4 megabytes of RAM, an internal 80-megabyte hard disk, one 1.4-megabyte FDHD floppy disk drive, and mouse.
The keyboard and other peripheral devices are packaged and sold separately.
Upgrading from an SE
As with other Mac releases, Apple offered an upgrade path for existing SE users. If you already owned an SE, you could pay Apple to upgrade your logic board to an SE/30 board and upgrade your 800K floppy disk drive to a FDHD drive capable of reading 1.4 Megabyte disks.
There was no upgrade path offered for 128K, 512K or Plus owners.
Replacement
The SE/30 was discontinued on October 21, 1991. The SE/30 was superseded by the Macintosh Classic II on the same date the SE/30 was discontinued, a far less expandable model that could only accept a maximum of 10MB memory, compared to the SE/30 which was capable of a maximum of 128MB. The Classic II did not inherit the SE/30 PDS slot, meaning it can not be expanded in the same way as the SE/30. There isn't really direct evidence for this, but after the SE/30 was discontinued, it
Support was officially discontinued by Apple on September 1, 1998.
Legacy
The choices Apple engineering made in opting for a 68030 processor and 68882 coprocessor for the SE/30, in addition to the internal expansion slot and 8 RAM slots, meant the SE/30 was prepared for the long term. Although Apple only offered the SE/30 for sale for a relatively short period, from January 1989 to October 1991, this model of Macintosh was used for many years to come by users.
Even today, users are working on modern hacks to keep the SE/30 relevant. In comparison to many Macs of this vintage, the SE/30 does not feel slow, and with adequate memory expansion available (up to 128MB) you can run any software that was designed for it. Some might say that Apple over engineered the SE/30, to the point where it was useful for too long. It was also one of the most reliable compact Macs (recent neglect of many models is starting to taint this reputation, because of age-related wear such as worn out electrolytic capacitors and leaking PRAM batteries), with fewer analog board failures than earlier models.
The characteristics of the SE/30 make it one of the most popular models for collectors. The SE/30 is also one of the most commonly repaired/refurbished models by collectors. By this point, at time of writing in May 2020, working SE/30s are becoming harder to find, being a less common sight than the cheaper models like the Plus and SE. They are also going up in value, with a fully working, restored SE/30 being worth upwards of $500 and a fully working model with original packaging worth in the region of $1,500-3,500.
Corrections
Please inform us of any corrections required. If you think we made a mistake, we would like to know so that we can correct it.